At some point, serious wine lovers will have the same thought. What if I quit my job and start a winery? Some will dwell on it for years. Some for only a few seconds. And then there's those like Michael and Charlie Havill who actually do it.
​Establishing Bella Grace Vineyards
What do engineered products, life insurance, and winemaking have in common? The answer is, more than you may think! For Bella Grace Vineyards' proprietors, husband and wife team Charlie and Michael Havill, the three industries share two people who have discovered a single passion – winemaking!
Not content with simply enjoying fine wine; Charlie and Michael found themselves drawn ever closer to the wine industry in the early 2000s, by way of wine-industry acquaintances, until the purchase of a vineyard became their goal.
"We started chatting with Koerner Rombauer at an Ahwahnee vintners event because we love his wine," said Michael. "We hit it off and told him we wanted to leave the corporate world and buy a vineyard. He said, go to Amador County."
From there Michael and her husband, Charlie, started scouring Amador County for potential vineyard locations. They never intended to "retire" to the vineyard life full-time, but their son instantly fell in love with the area and wanted to move.
"So we bailed out totally from our corporate jobs to become grape growers," Michael said.
In 2006, the two purchased 50 acres with 20 acres of wine grapes. The vineyards weren't in the best shape so Charlie learned as much as he could about biodynamic and sustainable farming. Under his watchful eye, the Havills have cultivated Primitivo, Zinfandel, Grenache, Vermentino, Grenache Blanc, Syrah, Petite Sirah, and Mourvedre without the use of pesticides or inorganic substances.
Early on, they worked the vineyard and sold their estate-grown varieties to regional commercial wineries and home winemakers. Before long, they realized in order to capitalize on the quality output from the vineyard, wine production at Bella Grace was the next logical step.
From Vines to Wines
Doing things right the first time is the driving force behind Bella Grace wine growth. From preparing the soil with organic compost, planting nutritional cover crops, and pruning for low yields, to thinning the crops during summer, sorting the grapes during harvest, and ensuring customer satisfaction, it was important that high-quality grapes came out of the vineyard. Quality wine grapes would establish the difference in Bella Grace wines.
While still committed to growing and providing grapes to award-winning wineries, Bella Grace now has a fully-operation winemaking facility. A custom-designed and engineered wine cave, built-in 2011, houses the handcrafted current vintage – all aged in oak barrels. The wine cave serves as a focal point of the property with its 12-feet high wide barrel storage design.
From our vineyard to your table, we hope you enjoy the end result of our wines as much as we enjoy the process.
Our story is not complete without our winery dogs!
Lucy is the Chair of the Welcoming Committee
And as they say…If you don't know Bella Grace, You don't know Jack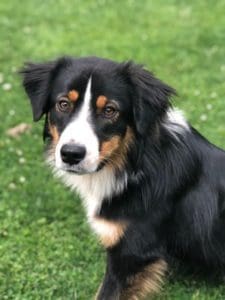 Liam is the newest puppers who will just lick you with kindness